Time to Eat by Nadiya Hussain is a great addition to my cookbook collection. I love the premise, that we can find ways to cook smarter and save time. My favorite thing about the food is the creativity and the great balancing of flavors.  Nadiya really stretches sometimes and does unusual things, and she usually pulls it off.  Her sense of taste and balance is very clear.  She also uses spices that aren't my everyday go-to spices, which is fun and interesting for me. There is a LOT of spice when she says spicy, though, so this is not a book for a delicate palate.  
Nadiya, before winning The Great British Baking Show and becoming this incredible food writer and television star, was a stay at home mom.  After reading an interview she gave where she talked about her anxiety attacks, I had to go back and re-watch her series of GBBO.  I just wanted to see her from the beginning of this public life she has, to see her growing in confidence.  It did not disappoint!   She was down to earth, kind and a little scared, all of which makes her so relatable.  And she kicked butt!  
I made: Tatty cakes (p. 49), Fried bread with raspberry honey (p. 52), Beef and kimchi instant noodles (p. 78), Teriyaki salmon with mango salsa (p. 128), Thai red pepper soup (p. 130), Shortcut beef pasties (p. 150), Grandmama's Curry (p. 158), Chorizo fish stew with garlic bread (p. 168), "Tandoori" oven chicken with browned butter rice (p. 178), Banana tarte tatin with malai ice cream (p. 217), Chocolate and orange blossom baklava (p. 220), Cereal milk ice cream (p. 224), Chocolate rose panna cotta tart (p. 225).
Would make again: Fried bread with raspberry honey (p. 52), Beef and kimchi instant noodles (p. 78), Teriyaki salmon with mango salsa (p. 128), Shortcut beef pasties (p. 150), Grandmama's Curry (p. 158), Chorizo fish stew with garlic bread (p. 168), "Tandoori" oven chicken with browned butter rice (p. 178), Chocolate and orange blossom baklava (p. 220).
Standout Star Recipe: Beef and kimchi instant noodles (p. 78). The huge amount is great. Once you have this paste (that keeps for two months in the fridge), you can throw a tablespoon in a jar with a handful of instant noodles or leftover cooked noodles or cooked rice, frozen peas and/or corn, cooked chicken or sliced beef jerky. Five minutes later, you have a meal! It's really good, you know all the ingredients, and it's as easy as can be! Be warned, though, the spice paste is spicy as heck.
Runner up: Chorizo fish stew with garlic bread (p. 168). I'm very excited when I find recipes for fish that aren't too fishy. This is a delicious spicy tomato broth, with chorizo and also smoked salmon in addition to white fish. Fantastic.
I also do just wanna call out Grandmama's Curry (p. 158). I am so happy to have this in my fridge (and freezer). The paste keeps for 6 months, and it makes it crazy easy to make a really healthy and delicious meal with whatever I have on hand.
Equipment and Ingredients
Super basic equipment. Some of the recipes do call for ingredients you may need to go to an Asian market for, like lemongrass and thai chiles.
Are these recipes difficult?
Not at all, but the amounts each recipe will yield can be confusing. For some recipes, you make double the amount you need (or more) in order to have leftovers to store for another day. More on that later.
Tips and Advice
The Shortcut beef pasties (p. 150) are great. But, it's also a great reminder that you can take almost anything and wrap it in puff pastry and bake it and it will be amazing.
I really liked Grandmama's Curry (p.158) in some ways, BUT the shredded coconut in the soup was off-putting to me texturally. I'd skip that and the baby corn. Also, keep in mind that it makes a lot of curry paste! Enough for about 12 pots of curry.
For a great weeknight curry: sauté a chopped yellow onion in a bit of canola oil until translucent, add diced chicken and brown if desired, add diced sweet potato and/or other vegetables, add 1/3 cup curry paste, 1 can coconut milk, salt and pepper, simmer until everything is cooked, then squeeze in half a lime and check seasoning. Add drained chickpeas 5 min before finished if desired. Serve over rice.
If you make the Fried bread, turn on your hood fan! The whole house smelled like walking through a carnival food tent. A good smell, but not one I want in my bedroom. Also, though Nadiya says you can freeze it, it wasn't as good. I'd make half if that's as much as you want and just eat it that day.
For me, the browned butter rice that goes with the "Tandoori" oven chicken (p.178) was just way too much fat and unnecessary. Feel free to halve the butter or just to make plain rice to go with the dish. The green apple and red onion salad on the side was amazing and fresh and delicious.
The Chocolate and orange blossom baklava (p. 220) was even better on the second day. It will stay good for 1-2 weeks at room temperature.
Is this food delicious?
Some of it I love, some not so much. I really want to love no churn ice cream, but it's not the same. I'm seeing this online more now, this using condensed milk and cream to make a kind of ice cream that doesn't need to be churned. It's pretty good if you eat it in the first couple days. Still, given the choice between no churn and buying at the store, I'd buy it at the store. It's just not as good of a texture.
Is it Family Friendly?
Some things are—my kids really liked the fried bread and the panna cotta tart. There are a bunch of recipes in this book, and some of them are very appealing for kids. That said, a lot of the savory recipes are pretty intense flavor-wise, so it depends on the kids. My favorite part of this book is how creative Nadiya is, but I think that also makes a lot of recipes seemingly intended for children a bit too out there for many of them. For example, her sausage and egg sliders and her meatloaf roll both have chile flakes, her quesadillas have tzatziki and jalapeños, and her hoop fish bake (which must be intended for kids—hoops are SpaghettiOs) has chiles, broccoli, green onions, and cherry tomatoes.
Tone of the Book
It's a very 'we're in this together, let's be creative, have home cooked food and save time' vibe, which is great. At the beginning, there's a section on how to use the book. In theory, that's great, and I do appreciate the tips on freezing and the encouragement to save time by using store bought elements in home cooking. However, the book doesn't always live up to this ideal because of disorganization. It's not always clear how to freeze and defrost a dish, how much you're actually making, or how long it will last. Sometimes the information is there and sometimes it's not. That can really detract from the stated goals.
Design
It's a pretty book with nice photos. Again, the organization is not great. Tips are mixed in to directions, ingredients are in the left margin scrunched next to the directions, the recipe titles are a quarter of the way down the page past the headnote, and the yield, time, and map key are at the bottom of the page. To compare, I looked at Cooking for Jeffrey by Ina Garten, a master's class in cookbook organization. In that book, it's title at the top, then yield, then headnote, then ingredients, then recipe, and the margins are used for different colored text notes on making things ahead or other tips. All of that is a lot of writing, but the main point is that it's just as well organized as it could be.
Is there practical advice for home cooks?
Yes, although there were missing pieces of advice that I could have used. Map-style keys in cookbooks are on my last nerve. Please just write a note instead of having a key I have to remember! For example, the baklava has a 3 pots symbol and a spatula and whisk symbol at the bottom of the page. This means it is make ahead and also either it is a double batch or it could be a double batch if you double the ingredients, presumably because it can be stored for a while. BUT what is the point of those symbols, because there is no information on how or how long to store the baklava.
There were a lot of confusing small things like that. Another example is the spice paste for the instant noodles, where the yield for the paste is written as enough for 4-8. Each recipe uses 1 tablespoon of the spice paste, and I ended up with one jar—2 cups of spice paste. That's 32 tablespoons. Which is 32 jars of instant noodles, significantly more than 8. I'm happy to have it, it's delicious and good for two months, but I'd like to know how much I'm making before I finish the recipe.
Healthiness of recipes/ adaptability to dietary needs
There's a little bit of everything, but it's not a vegetarian or a light cookbook, and I can't recommend it for someone on a diet. There are definitely healthy and special diet friendly dishes, though.
Who wants this book? Is it a good gift?
I think this suits someone who is open to a wide variety of different cuisines and flavors. It's creative, which I find inspiring, and doesn't mind breaking the rules (see Fish stick enchiladas, p. 143). Also, anyone who's a fan of Nadiya from her Netflix shows or the Great British Bake Off might enjoy getting it as a gift. I personally think she's adorable and am very happy to have this book.
TLDR: There are great and not so great recipes in this book. The organization is not great, and can be distracting and confusing, but the good recipes are really good. Nice gift book for a GBBO fan, someone who likes to experiment with kooky combos in the kitchen, or someone who's interested in cooking ahead.
Find Time to Eat, published in the U.S. by Clarkson Potter Publishers, an imprint of Crown Publishing Group, a division of Penguin Random House, wherever you buy books, or order it from Amazon!
Watch The Great British Baking Show on Netflix, Collection 3!
Seeing Nadiya win GBBO, yes, it had me crying. You'd have to be some kind of monster not to—it was so cute and sweet. What a journey.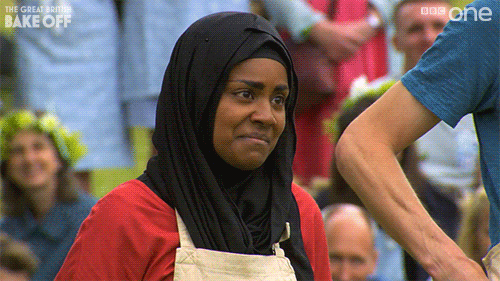 A quick, fun watch to get to know her:
Also, she has two shows on Netflix, Nadiya's Time to Eat, and Nadiya Bakes. They're so much fun. I highly recommend both, especially if you like old school cooking shows, where you actually watch someone explain how to make things.
If you love this book and want MORE Nadiya Hussain in your life, here are some of her other books to check out: